Bex Young
That Marvel teaser trailer has got me FAR TOO EXCITED
This week, we celebrated May the 4th (*swings lightsaber*) and got another glimpse into season 4 of Stranger Things thanks to a new teaser video from Netflix. Here's what I've been loving over the last seven days:
Invincible
The adult animated series genre is obviously very popular: Rick and Morty, South Park, Bob's Burgers to name a new of the greats. But add "superhero" to that genre and the selection of shows available becomes a lot smaller - DC's Harley Quinn is the only one that comes to my mind. Amazon Prime's adaption of the Image Comics Universe superhero has launched this genre into a new light through its bold action and animation, star-studded cast and nuanced storylines. Steven Yeun is the perfect fit to voice a teenage superhero and J.K. Simmons plays a beloved anti-hero with ease. It's hugely unconventional, keeps audiences on their toes and has cleverly adapted the original source material to explore the price of superpowers and the superhero persona. The regarded reception and resounding popularity Invincible has received may have opened the door to expand this quiet genre into something much more impressive, and the series has already been commissioned for another two seasons. You can watch Invincible on Amazon Prime.
Image courtesy of TimeShade, Amazon Invincible Fandom Wiki
Palm Springs
We all love Groundhog Day, right? Well take the plot, put it in the desert, add Andy Samberg and you've got Palm Springs! Nyles (Samberg) and Sarah (Cristin Milioti) meet at a wedding in Palm Springs and hit it off straight away. After consuming plenty of drinks (we all enjoy a free bar), Sarah follows Nyles into a cave filled with bright light: 3 seconds later, she wakes up in bed and the day has started all over again. She confronts Nyles who explains that she is now stuck in a time loop with him - and there's no way to escape. Oh, and Nyles is also being hunted by Roy, another guest at the wedding who got trapped in the time loop also. Underneath all the sci-fi and Samberg's classic comedy chops, it's a story of romance and acceptance of mistakes. The electric and infectious chemistry between Samberg and Milioti is the film's main highlight, and the energetic storytelling style means it's a really easy and enjoyable watch. If you're in need of a flick for your next movie night, Palm Springs is a brilliant choice. You can watch the film on Amazon Prime.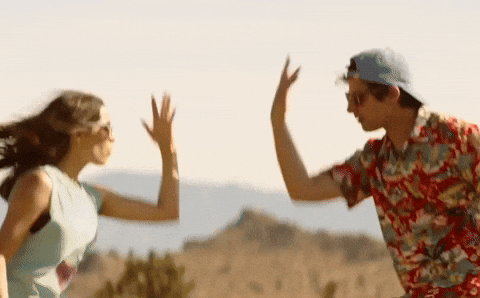 DiscussingFilm Newscast
I have been looking for a decent entertainment news podcast for years now and I've finally found one that covers all the bases. DiscussingFilm, the entertainment news site and hugely popular Twitter source for all the latest updates in the entertainment industry has launched its own podcast to "discuss" (see what I did there?) the big things happening in the entertainment world. New episodes are released bi-weekly and make sure to recap the big awards shows, latest casting and renewal news, as well as disputing some of the big talking points of the last couple of weeks. It's really easy listening and there's currently only three episodes to catch up on if you want to stay up-to-date with all the latest gossip and goings-on. You can listen to the DiscussingFilm Newcast on your preferred podcast platform and on YouTube.